Apr 19, 2022
Staying Healthy: 5 Reasons Why Women Should Lift Weights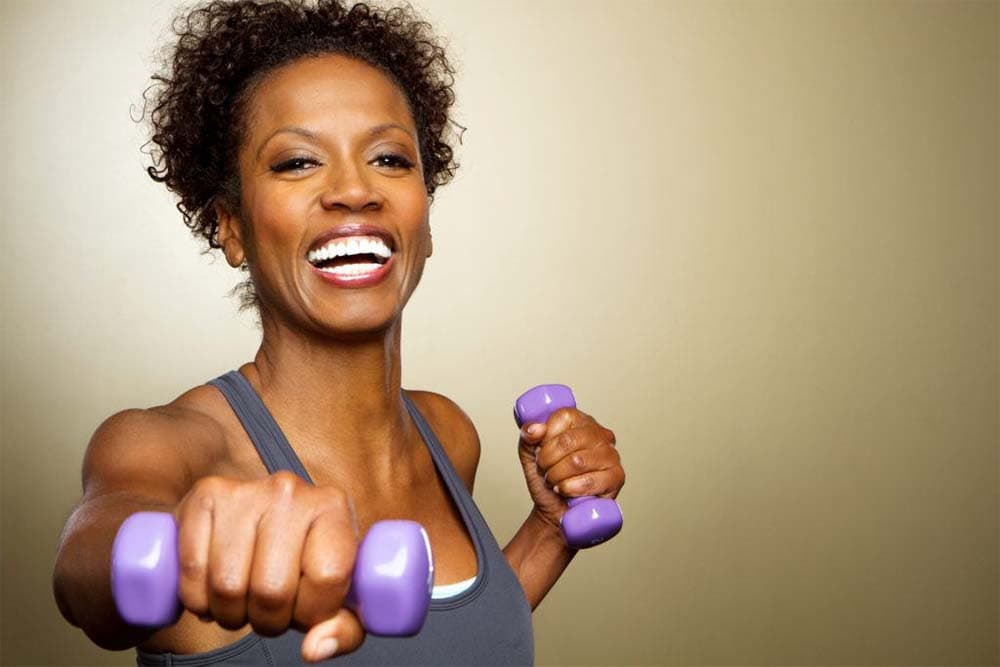 Walk into any gym, and you will likely find mostly men using the weight machines and free weights. Why? Because of the negative stigma that comes with women and weight lifting.  
It's common for many women to associate the thought of lifting weights with fears like becoming too bulky, getting injured, or it just being overall pointless for them. However, these are simply myths that seem to stick around. 
In reality, weight lifting has some surprising benefits that the female body can't achieve from cardio alone. Studies show that strength training can help you burn more fat and feel more energized (just to name a few).
Always consult your doctor before beginning any new workout regimen. 
Benefits of weight lifting for women
Are you on the fence about adding weight lifting to your exercise routine? Here are five reasons you should start today! 
Prevent certain medical conditions
Women who lift weights lower their risk of developing certain health conditions, such as Type-2 diabetes, heart disease, and osteoporosis. 
Lifting weights can help a woman's body process sugar and cut out excess fat, reducing the risk of diabetes. And recent studies suggest those who already have Type-2 diabetes benefit more from strength training than cardio when it comes to blood sugar regulation. 
Weight training lowers blood pressure and LDL ("bad") cholesterol while increasing HDL ("good") cholesterol—all key to keeping your heart healthy. 
Women, especially post-menopausal women, are at a higher risk of developing osteoporosis. Lifting weights increase bones density, helping build new bone and decreasing the chance of fractures related to osteoporosis. Incorporating weights into your workouts combined with the right amount of dietary calcium is the best way to fight bone loss as we age. 
Improves mental health
Exercise, in general, has proven to impact our mental well-being significantly. However, recent studies have shown the connection between mental health benefits and strength training. 
Research shows that lifting weights builds a tangible sense of accomplishment, leading to:
A rise in confidence and self-esteem

Improved sleep quality

Increased energy levels
All of these above contribute to your overall mental health. 
Increases weight loss
Not seeing the results from the hours spent in yoga or on the elliptical?
Lifting weights builds and maintains muscle while speeding up your metabolism. As a result, you become leaner over time. 
It's important to remember that strength training supports lean body mass, so while the numbers on the scale might not reflect a lot of weight loss, you will look slimmer and more toned overall. 
Experts agree that a healthy diet in addition to weight lifting will bring more noticeable weight loss results. 
Enhances athletic performance 
As weight lifting helps a woman's body become stronger, it improves their power, speed, agility, and muscle endurance. Whether you're training for the next 10K or want to improve your tennis skills, lifting weights can help you be a more powerful athlete.
Not really into sports? Time in the weight room can also help reduce fatigue and as well as the risk of injury when doing both routine exercise and even daily tasks.
Better sleep
Any exercise is better than no exercise when combating sleep issues like insomnia. However, recent research suggests that people who lift weights show more improved sleep than those who do cardio. 
An Iowa State University study found that 42 % of participants in the resistance training group reported an increase in sleep by 40 minutes. The same group also saw a rise in sleep quality and decreased sleep latency.   
How often should women lift weights?
The Physical Activity Guidelines for Americans recommend adults get at least two days per week of muscle-strengthening activity. As you become stronger, your body most certainly can benefit by adding more lifting days into your workout week.
Before adding in weights, you should consider three things:
Your current physical condition.

Your experience with weight lifting

The overall goals you wish to achieve from strength training. 
Adding in cardiovascular exercise is also critical to your overall exercise regimen. The guidelines suggest that adults should have at least 150 minutes of moderate-intensity or 75 vigorous aerobic activity weekly or a combination of both. Cardio activities, such as dancing, swimming, and cycling, improve heart health, increase energy, promote better sleep, and contribute to weight loss. 
Recovery time is critical, especially after training a specific muscle group; You should allow your body to rest 24 to 48 hours for muscle repair.