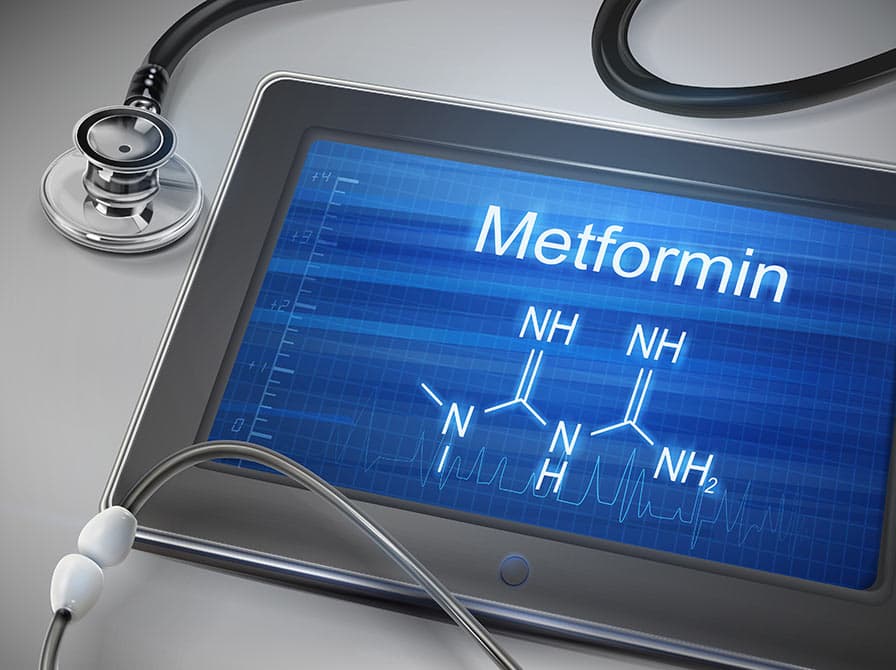 Metformin: What You Need to Know
Feb 26, 2021
Diabetes is a very common disease that causes high levels of blood sugar in the body. High blood sugar and diabetes are extremely prevalent medical ailments in the United States with about 1 in 10 people or approximately 34.2 million plagued with it in this country. According to a report from the CDC in 2017, diabetes is the 7th most common disease in the United States. 
Having levels of blood sugar that are excessively high for a prolonged period of time can be extremely harmful to the body, leading to a host of serious health problems including increased risk of heart disease and stroke, kidney disease, vision problems, and nerve problems. If you or someone you know is suffering from high blood pressure and type 2 diabetes, Metformin which is a common prescription drug used to treat type 2 diabetes may be able to help.  We have put together a helpful guide covering everything you need to know about Metformin to discover if this popular prescription drug could be right for you. 
But first, let's dive a little deeper into diabetes, to understand the differences between the types. 
What is Diabetes? 
Diabetes refers to a group of diseases that involve a dysfunction in the way the body uses blood sugar. The most common types of diabetes include type 1, type 2, prediabetes and gestational diabetes. The specific type that can be receptive to Metformin for treatment is type 2, which is a chronic condition that interferes with how the body processes blood sugar. 
In type 2 diabetes, the body is unable to process insulin correctly which leads to increased levels of blood sugar. While there unfortunately is currently no cure for type 2 diabetes, a prescription drug like Metformin used to reduce levels of blood sugar, in conjunction with weight management, exercise and lifestyle changes, can help treat the disease. 
What is Metformin and How Can It Help With High Blood Sugar?
Metformin is known as an anti-diabetic drug that is used as a treatment for type 2 diabetes. It is used to reduce the amount of sugar in the blood. It works by helping to reduce hepatic (liver) glucose production and GI glucose absorption to enable higher levels of insulin sensitivity and consequently, improved processing of insulin in the body.
Metformin belongs to a class of drugs called biguanides and is also known under different names on the market including, Glucophage, Glucophage XR, Fortamet, Glumetza, and Riomet.
How Do You Take Metformin? 
Always consult your health care provider before starting a new prescription medication. Also be sure to take your medication as advised by your healthcare provider as well as the recommended  instructions on the prescription label. 
Metformin is available in liquid form, a tablet as well as an extended release (long-acting) tablet, all of which are to be taken orally. The liquid is to be taken with meals one or two times a day and the tablet is taken with meals two to three times a day. The extended-release tablet is usually taken only one time in the evening with your last meal of the day. Metformin should be taken consistently at the same times every day.  Extended-release tablets should be swallowed whole; do not split, chew, or crush them or you may affect their efficacy.  Note that your doctor may recommend you start with a lower dose of metformin, and slowly increase the dose. As you take Metformin, it is important that you carefully monitor and track your blood sugar levels to gage if the medication is working for you. 
What Are Common Side Effects of Metformin?
Common side effects of Metformin include symptoms of gastric distress like diarrhea, bloating, stomach pain, indigestion, constipation and gas. You may also experience such side effects including unpleasant, metallic taste in the mouth, headache, heartburn, flushed skin, changes in the nails or muscle pain. 
If you or someone you know is struggling with high blood sugar and diabetes, Metformin may be a solution treatment for you. CareCard offers affordable options for many prescription medications, helping you save up to 85% on your prescription drugs. You can search for a Metformin coupon here and learn how CareCard can help make your prescription medication payments more manageable.