Aug 11, 2022
Vaccines & Boosters: Getting the Kids Ready For Back to School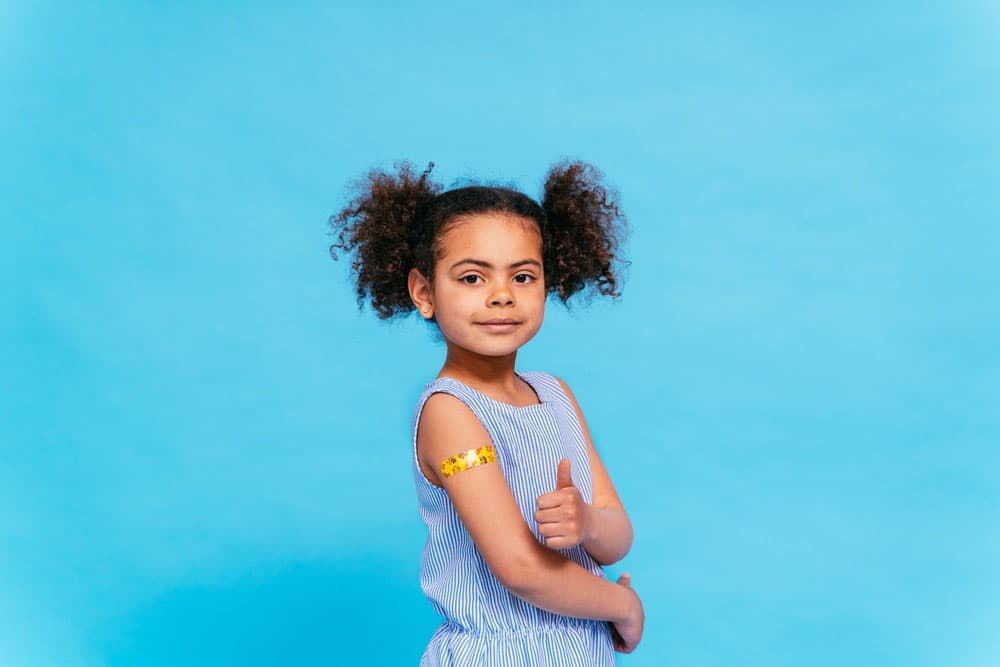 It's the most wonderful time of year; back-to-school time. 
From new shoes and backpacks to notebooks and markers, parents across the country are checking off their back-to-school lists with the first day of school quickly approaching. 
One essential thing you may not be thinking about during this busy time is vaccinations for your child(ren). Don't worry! We put together this guide to help you navigate how to prepare the kids for back-to-school with the appropriate boosters and shots. 
Why are vaccines important for children?
Following the recommended vaccine schedules is essential to making sure your kids are up-to- date on their immunizations for various diseases.
In addition to protecting children from 16 diseases, vaccines can also reduce and even eliminate illnesses. The smallpox vaccine, for example, eradicated the disease worldwide, with the last known US outbreak occurring in 1949. Children no longer have to get the smallpox shot because the disease no longer exists. 
What immunizations are required for children to go to school?
No federal law states that children must have specific vaccinations before starting kindergarten. However, each state has its own laws for vaccination requirements for school children. This may include not only public but also private schools and daycares. Consult with your healthcare provider or contact your health department for your state's vaccine requirements. 
Vaccine exemptions for religious and philosophical reasons vary across the nation. All states and Washington D.C. give medical exemptions to children with health conditions that prevent them from becoming vaccinated. 
What is the recommended vaccination schedule for children?
It's critical to know that not all vaccines are created the same. This means that your child may need just one shot for certain diseases, multiple shots for others, and even boosters yearly for some. 
Some vaccines are combined into one shot (combination vaccinations) to reduce the total number a child has to get. 
The American Academy of Pediatrics (AAP) and the Center for Disease Control and Prevention (CDC) recommend the following immunization schedule for children. 
Vaccines recommended from birth to 6 years old
A majority of states require these vaccinations before the start of kindergarten. 
Vaccines for school-aged children (6-17)
Once your child starts school, vaccinations begin to slow down. The following vaccines are recommended for school-aged children:
Tetanus(Tdap)- Booster for DTap vaccine given during early childhood. 1 dose is given between 11 and 12 years old.

Meningococcal- 2 doses; Between 11-12 years old and 16 years old

HPV(Human Papillomavirus)- 2 doses 6-12 months apart if given between 11-12 years old. Teens 15 years and older will need 3 doses within a 6-month time period. 
Does my child need the flu vaccine before the new school year?
The AAP and CDC also advise that children get a flu shot each year starting at 6 months of age. However, they also recommend getting the vaccine in either September or October. Therefore, there's no need to rush and get it before the first day of school. Just aim to have your child's yearly flu vaccine done by the end of October. 
Keep in mind some kids need 2 doses of the flu shot, so they may need to get the first dose when the vaccine becomes available. Please consult with your child's physician to determine how many they may need this year. 
Is the COVID vaccine and booster required for children to go to school?
The District of Columbia is the only one requiring students in the age group approved by the FDA (12 years old and up) to be vaccinated against COVID to attend school. 
The CDC recommends the COVID vaccine for children 6 months and the booster for kids 5 and over. 
What should I do if I can't afford vaccinations?
Resources are available to help those who don't have health insurance or may not be able to afford the vaccinations recommended for their kids. A federally funded program called The Vaccines for Children (VFC) provides vaccines at no cost to kids who are uninsured, underinsured, or from low-income families. 
Ask your child's pediatrician if they are enrolled in the VFC program or contact your local or state health department to find eligible VFC physicians in your area. 
Final thoughts
As kids across the country get ready for a new school year, it's critical to ensure they are up-to-date on all their vaccinations. Speak to your pediatrician with any concerns or questions about your child's immunizations. 
Here's to a happy and healthy school year!
At CareCard, our mission is to help make your prescription payments more affordable, saving members up to 85% on prescription drugs and medication. Learn how CareCard can help make your medication payments more manageable.