Apr 21, 2022
Healthcare
Prescriptions
Discounts
What you need to know about alcohol and antibiotics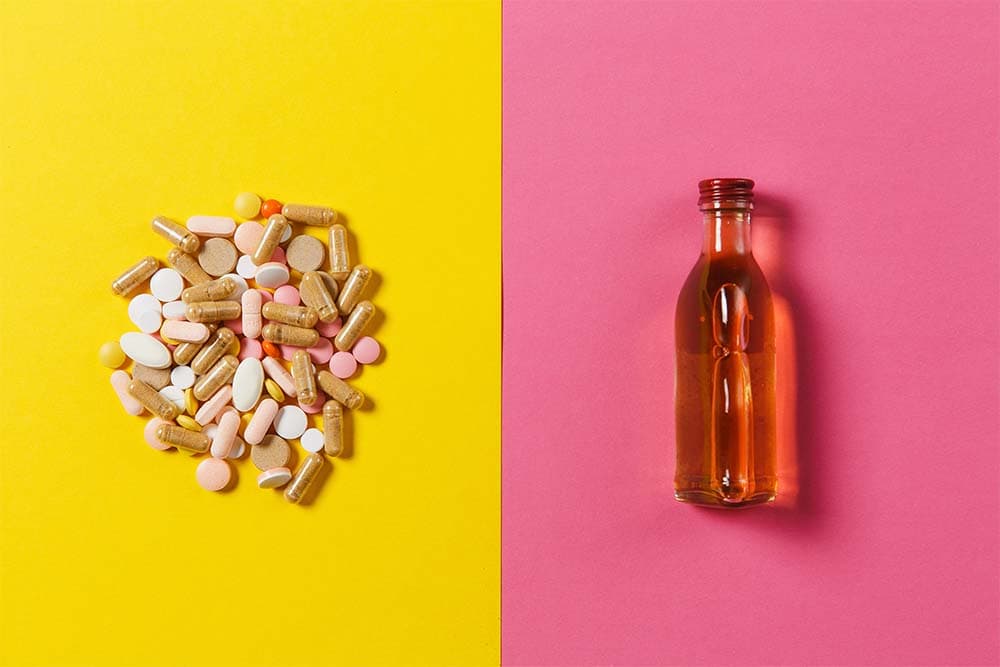 With over 200 million antibiotic prescriptions written each year, the likelihood of needing one at some point in life is pretty high. 
These medications can be critical when it comes to fighting off many infections. However, like many medicines, antibiotics can cause more severe side effects or lose their effectiveness when mixed with alcohol. 
We put together this guide covering everything you need to know about alcohol and antibiotics. 
What are antibiotics?
Antibiotics are powerful drugs to treat certain bacterial infections, such as strep throat and urinary tract infections (UTIs). They aren't effective against viruses like the flu or the common cold. 
These medications are available in oral and topical form as well as injections (used for more serious infections). 
Side effects of antibiotics
The most common side effects of antibiotics include:
Nausea

Dizziness

Fatigue 

Vomiting

Diarrhea

Yeast infections
More severe side effects can occur. If you experience any of these, contact your physician or seek medical attention right away:
C. diff infections-Severe diarrhea that may contain blood or pus and is accompanied by stomach cramps, fever, or vomiting. 

Allergic reaction( anaphylaxis)- difficulty breathing, swelling of the face, tongue, and/or throat, wheezing, coughing, hives/welts/rash, abdominal pain, vomiting, and turning pale. 
You should never take an antibiotic unless directed to and prescribed by your doctor, as you can run the risk of developing antibiotic resistance. 
Alcohol's effect on antibiotics
Most doctors and healthcare providers will agree that mixing alcohol and antibiotics should be avoided. Since they both cause identical side effects, like nausea, vomiting, dizziness, fatigue, and headache, it can be hard to differentiate which is causing your symptoms.
Metronidazole (Flagyl), Tinidazole (Tindamax), and Sulfamethoxazole- trimethoprim (Bactrim), Cefotetan Disodium (Cefotetan), and Ketoconazole (Nizoral)
These antibiotics are in the nitroimidazole antimicrobials class of medications, meaning they stop the growth of bacteria. They all have serious interactions, including:
Severe headaches

A sudden drop in blood pressure 

Rapid heart rate

Liver damage

Disulfiram-like reactions- nausea, vomiting, dizziness, flushing, and other "hangover-like" symptoms. 
Amoxicillin 
One of the most commonly prescribed antibiotics, Amoxicillin, comes with the risk of diarrhea and vomiting, leading to dehydration. When you mix alcohol, which also causes dehydration, with Amoxicillin, you increase your risk of developing dehydration and other symptoms, such as headache, nausea, and dizziness. 
Doxycycline (Doryx) and Erythromycin (Ery)
Doxycycline and Erythromycin are used to treat infections such as acne, Lyme disease, and sexually transmitted diseases(STDs). 
Drinking alcohol when on either of these antibiotics can change how well the medication treats the infection.
Isoniazid or Linezolid should never be combined with alcohol. Mixing them can cause severe and potentially fatal liver damage. Alcohol may also cause a hazardous increase in blood pressure. 
Before you start either one of these antibiotics, tell your physician if you currently or have consumed a large amount of alcohol and if you have a liver disorder or a family history of liver problems.
Final thoughts
Since alcohol and antibiotics can be dangerous when consumed together, you should avoid drinking alcoholic beverages while taking your medication. Alcohol can cause severe side effects, cause the prescription to be less effective, and interrupt the natural healing process.
If you or someone you know suffers from alcohol addiction, there are resources to help you on the road to recovery. Visit the Addiction Center to find support near you.  At CareCard, we are passionate about helping make your prescription payments more affordable, saving members up to 85% on prescription drugs and medications. Learn how CareCard can help make your medication payments more manageable.