Jul 07, 2022
What You Need to Know About Monkeypox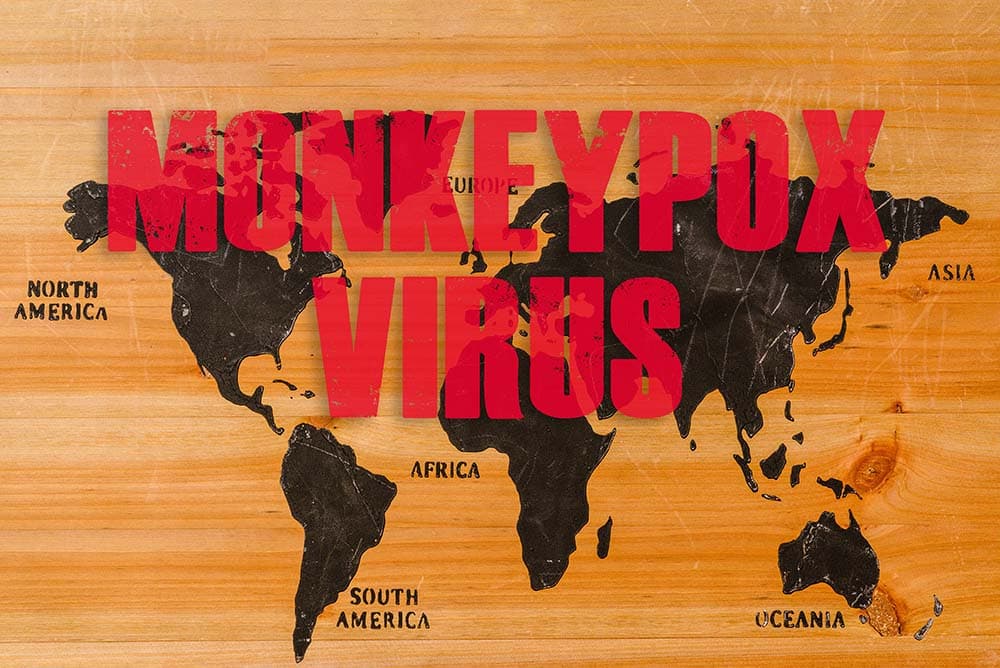 By now, most of us have heard the medical term, Monkeypox. When words like outbreak start to accompany it in the media, it can cause panic and fear in many, especially after the last two years of the Covid-19 pandemic. 
So, what is Monkeypox? Is there concern about a massive outbreak in the United States? What can the general public do to protect themselves? We put together this guide with important information about this virus. 
What is Monkeypox?
First discovered in 1958, Monkeypox is a rare disease caused by an infection from the Monkeypox virus. 
Monkeypox belongs to the Poxviridae family and Orthopoxvirus genus. Other Orthopoxvirus genera include variola (Smallpox), vaccinia (used in the smallpox vaccine), cowpox, and camelpox. 
Does Monkeypox come from monkeys?
No, Monkeypox does not come from monkeys. The virus earned its name because its first two outbreaks were found in an isolated colony of monkeys kept for research. While rodents in Central and West Africa may carry and infect people, the official source remains unknown. 
What are the symptoms of Monkeypox?
The Center for Disease Control and Prevention (CDC) recommends monitoring anyone exposed to Monkeypox for up to 21 days after the last exposure. Usually, symptoms of Monkeypox appear 6-13 days after contact with the virus. 
Monkeypox symptoms may include:
Some develop a rash first, followed by flu-like symptoms. Others only experience a rash. It's important to see your doctor if you notice an unusual rash. 
How is Monkeypox spread?
Monkeypox can spread in various ways. It's transmitted by skin-to-skin contact with an infected person in one of the following ways:
Monkeypox has primarily been transmitted through sexual contact in the most recent outbreak. 
It's also possible to get Monkeypox from an infected animal. This usually happens when someone is bitten or scratched by the animal or prepares or eats the animal's meat. 
Is Monkeypox highly contagious?
Right now, those with Monkeypox can transmit the virus to others while they have symptoms and until all sores, rashes, and scabs are healed, which can take several weeks. 
However, experts are still researching to understand if someone who is asymptomatic is contagious.
Is there a vaccine available to prevent Monkeypox?
In 2019, the FDA approved the JYNNEOS vaccine for anyone 18 or older exposed to or at high risk of contracting Monkeypox or Smallpox. Administered in 2 doses, 4 weeks apart, the vaccine can help reduce the risk of infection after exposure and lessen symptoms for those who get Monkeypox.
The modern version of the Smallpox vaccine, ACAM2000, was approved by the FDA in 2007 to prevent Smallpox. A study in the same year found that while this vaccine doesn't offer complete protection for Monkeypox, it does provide some. 
Should I be vaccinated against Monkeypox?
The CDC currently recommends only those who are at high-risk get vaccinated against Monkeypox, including:
How can Monkeypox be stopped from spreading?
The primary focus should be on controlling the outbreak by contact tracing and isolation. Therefore, it's critical for those with confirmed cases to disclose their contacts, so they can be alerted to monitor symptoms and isolate if needed. 
To prevent contracting and increasing the spread of Monkeypox, the World Health Organization (WHO) recommends :
What are the treatment options for Monkeypox?
There are currently no treatments specifically for Monkeypox. Most cases of the virus are mild, and people get better without treatment in a few weeks. 
Acetaminophen (Tylenol) and ibuprofen can reduce fevers, muscle aches, and pain.
Those at risk of becoming severely ill, such as the immunocompromised, may be prescribed an antiviral, like Tecovirimat (TPOXX). Doctors are also trying others, such as Cidofovir (Vistide), Brincidofovir (Tembexa), and Vaccinia Immune Globulin Intravenous (VIGIV). 
Why is Monkeypox in the news now?
With the first human case reported in 1970, Monkeypox numbers have remained pretty low over the last 40-50 years. However, a few things this time around have caused researchers and scientists to pay a little more attention to this virus. 
Should I be concerned about Monkeypox?
The threat to the general population is low, so there is no need to panic. Health officials stress that we should be aware to keep ourselves and our families safe. Whether you are considered high-risk or not, always report any unusual rashes or sores to your doctor immediately. 
At CareCard, our mission is to help make your prescription payments more affordable, saving members up to 85% on prescription drugs and medication. Learn how CareCard can help make your medication payments more manageable.