Jan 26, 2023
What You Need to Know About Oxycodone and OxyContin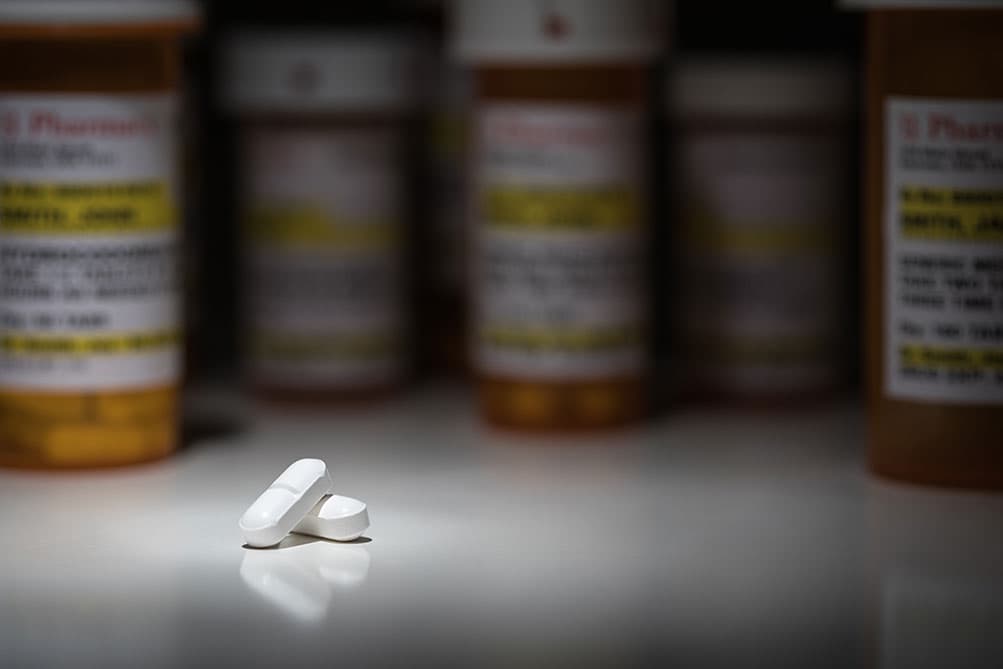 Because pain affects people differently, treatment options often vary. Sometimes painkillers are prescribed to help manage uncontrollable pain. 
Oxycodone and OxyContin are two drugs that doctors may recommend to manage moderate to severe pain. Both medications are classified as opioids and anyone prescribed either of them should be aware of their similarities, differences and risks.
Let's look further into Oxycodone and OxyContin in terms of use, dosage, chemical makeup, and side effects.
Find the lowest price for Oxycodone and OxyContin here and get free instant savings coupons for your local pharmacy here.  No insurance or sign up is required.
What are Oxycodone and OxyContin?
Oxycodone is a pain medication available in immediate-release and extended-release forms. 
Essentially they are different versions of the same drug. Oxycodone is an immediate-release form that's available as a generic drug, whereas the extended-release version is only available as the brand-name drug OxyContin. 
Both drugs are semi-synthetic opioids and are considered Schedule II drugs by the DEA because they can be addictive and dangerous. 
These drugs control pain by attaching to your brain and spinal cord opioid receptors to block pain signals. 
What are Oxycodone and OxyContin used to treat?
Oxycodone is used to treat short-term pain. It's typically used for acute pain when other treatments don't work or are unavailable. 
OxyContin is prescribed to treat moderate to severe chronic (long-term) pain when other treatments have failed or cannot provide adequate relief over an extended period.
How do you take Oxycodone and OxyContin?
Oxycodone is available in a tablet, capsule, or oral solution form and can be taken every 4-6 hours as needed for pain relief. 
On the other hand, OxyContin's extended-release tablet should only be taken twice a day as prescribed by a doctor—not as needed like Oxycodone because it has an extended-release mechanism designed to release medication slowly over time.
What are the chemical compositions of Oxycodone vs. OxyContin?
Both Oxycodone and OxyContin contain an opioid called "oxycodone hydrochloride." However, the two drugs differ when it comes to their chemical makeup. 
While both drugs contain acetaminophen (Tylenol), oxygen (O2), and hydrocodone (a type of opioid), only OxyContin contains polyethylene glycol (PEG). This ingredient helps slow down the absorption rate of the drug into the bloodstream so it can provide longer-lasting pain relief over an extended period.
What are the side effects of Oxycodone and OxyContin?
As with any drug, there are potential side effects associated with these painkillers. The most common side effects of Oxycodone and OxyContin include the following:
constipation

dizziness

drowsiness

headache
Other more severe side effects include respiratory depression (slowed breathing), hypotension (low blood pressure), and addiction/dependence on the drug if it is used for too long or in higher than recommended doses. 
OxyContin carries a greater risk of these side effects due to its extended-release mechanism, allowing more of the drug to stay in your system for longer than Oxycodone.
How much do Oxycodone and OxyContin cost?
Since Oxycodone is available in a generic form, it most likely will cost less than OxyContin. Be sure to verify with your insurance company, as some insurance plans will only cover generic medications. 
Here at CareCard, we are passionate about helping make your prescription payments more affordable. You can search for a medication coupon here and learn how CareCard can help make your pain medications and other prescription costs more manageable.
Final thoughts
Although both medications are powerful at controlling pain, it is critical to understand how Oxycodone and OxyContin work and the risks they come with before starting any treatment involving opioids. 
While both drugs contain similar ingredients that help relieve pain symptoms, they have different uses depending on your pain level (short-term or chronic). You should only use these medications under medical supervision and according to your doctor's instructions. 
Because both drugs are opioids, they have a high risk of becoming addictive. Please let your healthcare provider know if you have a history of drug or substance abuse. 
If you or someone you love is addicted to opioid pain medications, there are local and online resources available to help:
SAMHSA's National Helpline, 1-800-662-HELP (4357)
or visit their online treatment center locator