May 18, 2023
Why Are EpiPen Pens So Expensive?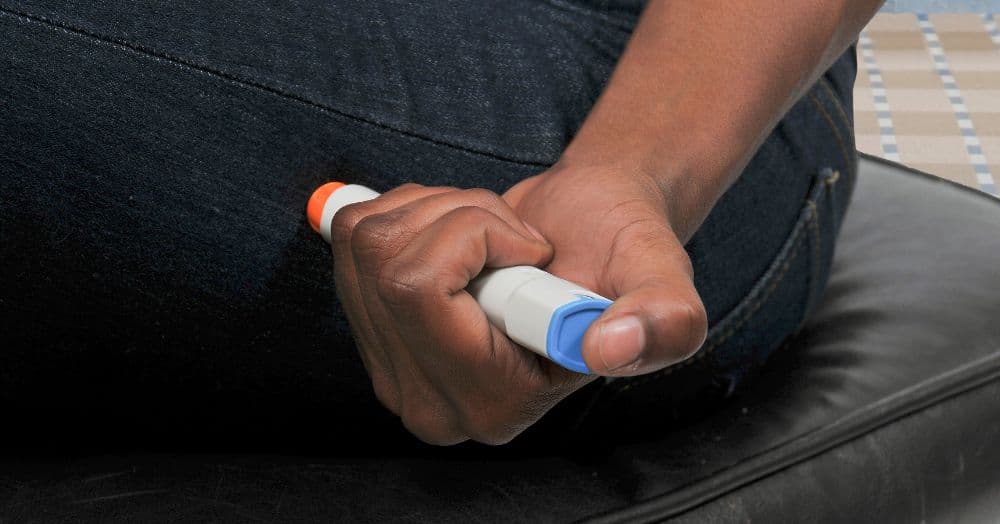 EpiPen pens are essential medical devices used to treat severe allergic reactions, providing a life-saving dose of epinephrine. However, many individuals are perplexed by the high cost associated with these devices. In this article, we delve into the reasons behind the expense of EpiPen pens and explore potential affordable solutions. Individuals suffering from allergies or anaphylaxis, as well as their caregivers, healthcare professionals, and advocacy groups, can make informed decisions and seek appropriate alternatives.
Discover the best prices for EpiPen and access free instant savings coupons for your local pharmacy using our exclusive prescriptions discount card. No insurance or sign up is necessary.
What is an EpiPen?
An EpiPen is a small auto-injector that delivers a precise dose of epinephrine, a hormone that helps reverse severe allergic reactions. These easy-to-use devices are designed for quick and convenient administration during emergencies, providing immediate relief and potentially saving lives.
How to use an EpiPen
Administering an EpiPen correctly is crucial for effective treatment. Follow these steps:
Remove the Safety Cap: Remove the protective cap from the EpiPen with a firm grip, ensuring not to touch the black tip.

Position and Hold: Place the EpiPen against the outer thigh, holding it at a right angle to the leg.

Press Firmly: Push the EpiPen firmly against the thigh until it clicks. Maintain pressure for a few seconds to ensure proper delivery of the medication.

Seek Medical Assistance: After administering the injection, it is essential to seek immediate medical attention, even if symptoms subside. To manage the allergic reaction, additional assessment and care are required.
How much does an EpiPen cost?
Many individuals and families have expressed worry about the cost of EpiPen pens. A number of factors contribute to its high cost, including:
Research and Development: The extensive research required to develop and refine the technology behind EpiPen pens incurs significant costs.

Manufacturing Expenses: The production process, which includes quality control procedures, sterile packaging, and regulatory compliance, increases the total cost.

Patent Protection: EpiPen pens are protected by patents, allowing the manufacturer to repay their investment by retaining market exclusivity.

Marketing and Distribution: Marketing costs and distribution network costs are aspects that add to the overall pricing.
The price of an EpiPen varies depending on region and insurance coverage. A two-pack of EpiPen pens can cost anything from several hundred to over a thousand dollars.
Where to buy EpiPen
EpiPen pens can be obtained from various sources, including:
Local Pharmacies: Visit your local pharmacy, whether it's a chain store or an independent retailer, to purchase EpiPen pens. Pharmacists can offer valuable advice and assistance during the buying process.

Online Pharmacies: EpiPen pens can be purchased from several licensed online pharmacies. Choose a reliable and verified pharmacy to ensure product authenticity and quality.

Healthcare Providers: Consult your doctor, who can prescribe and aid you in acquiring EpiPen pens. They can also advise you on insurance coverage and alternative cost-saving options.
EpiPen side effects and when to use them
While EpiPen pens can save lives, it is crucial to be aware of any potential negative effects. Increased heart rate, nervousness, and shaking are common adverse effects. These side effects usually go away fast, but they should still be monitored. Seek immediate medical attention if adverse effects persist or worsen.
Knowing when to use an EpiPen is equally important. EpiPen pens should be used in emergency situations when an individual is experiencing severe allergic reactions, such as difficulty breathing, swelling of the face or throat, and major hives or rash. If there is any uncertainty about the severity of the allergic reaction, it is best to proceed with care and use the EpiPen.
Take control of your allergy management
The high cost of EpiPen pens can pose a significant financial burden for individuals with allergies or anaphylaxis and their caregivers. Individuals can take control of their allergy treatment without compromising their health and safety by identifying the underlying variables, finding alternative options, and using prescription savings cards or discount programs.