Jun 02, 2023
How Do I Know if My Chest Infection is Viral or Bacterial?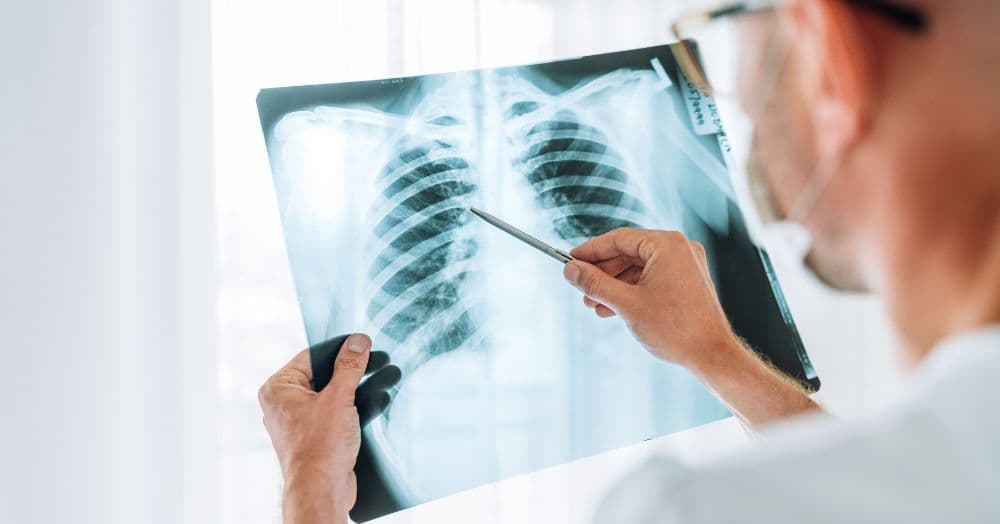 Chest infections can be a pretty miserable experience. They can leave you feeling tired, run-down, and unable to do the things you'd typically do. 
But did you know there are different kinds of chest infections? Knowing whether your infection is viral or bacterial is key to finding the right treatment option for your condition.
In this blog, we will discuss the differences between these two types of infections, how to tell the difference, and how to manage your symptoms. 
Find the lowest price for your medications and get free instant savings coupons for your local pharmacy here.  No insurance or sign up is required.
What is a chest infection?
A chest infection, or lower respiratory tract infection, is a broad term covering viral and bacterial 
infections in the lungs and bronchial tubes. 
Viral chest infections are often caused by Respiratory Syncytial Virus (RSV), the common cold, and the Influenza (flu) virus, which can lead to acute bronchitis. 
On the other hand, bacterial infections like pneumonia are caused by bacteria such as Streptococcus pneumoniae or Haemophilus influenzae. 
Symptoms of viral and bacterial infections
Viral and bacterial chest infections can cause similar mild to severe symptoms like coughing, chest pain, fatigue, fever, and shortness of breath. 
However, there are some differences between the two. Viral infections often cause headaches and sore throats. 
Bacterial infections can cause a prolonged cough with phlegm, rapid breathing, and chest pain that worsens with coughing or breathing. 
A chest infection may progress if left untreated and lead to severe complications. Therefore, seeking medical attention if you suspect you have a chest infection is critical to determine its cause and receive appropriate treatment.
Who is at risk of developing a chest infection?
Both viral and bacterial infections can quickly spread through coughs and sneezes, releasing tiny droplets containing harmful viruses or bacteria into the air. Others can inhale the droplets and become infected as well. 
Infections can also spread if an infected person coughs or sneezes onto their hand, an object, or a surface, and another person comes into contact with it and then touches their mouth or nose. So, anyone at any age is susceptible to chest infections. 
However, certain people are at higher risk of developing a more severe chest infection, including:
Older adults 

Babies and young children

People with chronic health conditions like asthma, COPD, diabetes, heart disease, and kidney disease

People who smoke

People with a weakened immune system due to a recent infection, an organ transplant, chemotherapy, etc. 

People who are overweight or obese
Getting a proper diagnosis
If you are experiencing chest infection symptoms, seeing a doctor for a proper diagnosis is essential to get the correct treatment. 
Your doctor will ask about your symptoms and perform a physical examination. They may also take a chest x-ray or blood test to help determine whether your infection is viral or bacterial.
Treatment for viral and bacterial infections
The treatment for viral and bacterial infections is quite different. If a virus causes your infection, antibiotics won't help. Instead, you'll need to manage your symptoms by:
Getting plenty of rest

Using over-the-counter (OTC) medications, such as a decongestant and a pain reliever, like Ibuprofen, for headaches, fever, aches, and pains 

Drinking plenty of fluids
On the other hand, if your infection is bacterial, your doctor may recommend a course of antibiotics for several days. Some of the most common prescription antibiotics used to treat bacterial chest infections are Cephalexin (Keflex), Clarithromycin (Biaxin), and Amoxicillin. 
You shouldn't take Ibuprofen if you have asthma, kidney disease, indigestion, a history of stomach ulcers, or are allergic to aspirin or other non-steroidal anti-inflammatory drugs (NSAIDs). Consult your healthcare provider before starting or stopping any medication, including OTC. 
Prevention is key
The best way to prevent viral and bacterial chest infections is through good hygiene practices like frequent hand washing, avoiding close contact with sick people, staying home if you're sick, and covering your mouth and nose when coughing or sneezing. 
Additionally, staying current on vaccines, like the annual flu vaccine, as well as quitting smoking and limiting alcohol use, can help reduce your risk of getting sick. 
Final thoughts
It can be difficult to tell whether your chest infection is viral or bacterial. However, by understanding the causes and symptoms of each, getting a proper diagnosis, and following the recommended treatment plan, you can manage your symptoms, feel better sooner, and prevent more severe complications. 
Need to get your antibiotic filled to treat your bacterial infection? CareCard can help you save money! We are passionate about helping make prescription payments more affordable, saving you up to 85% on prescription drugs and medications. Get your antibiotic discount card here.